Latest News from External Combustion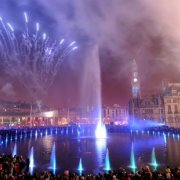 Bradford City Park Launch 2012
16 April 2012
External Combustion produced a major pyrotechnic spectacle for the launch of Bradford's new City Park on 24.3.12. The whole event was a fantastic success; the company firing team worked hard to prepare and rig 2 difficult city centre sites with over 1600 cued firework and pyrotechnics units. The show was a triumph and we will be adding a record to the video archive shortly.
The company is now planning summer projects for the Queen's Jubilee and Olympic torch relay in several towns and cities.
Posted By: Doug Nicholson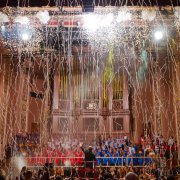 School Awards and Prom
18 April 2012
We are in the season of indoor gigs. Various theaters are being rigged with specialist stage pyrotechnics and left a total mess after the firing.
Posted By: Doug Nicholson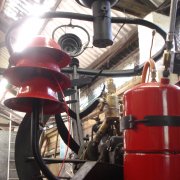 Prometheus' Garden showcase
25 April 2012
Following the confirmed partnership with Barnsley Events Team and venue for the showcase/tryout, we are now contacting festival and event programmers for expressions of interest.
The performance will be held on the 13th October 2012 at Elsecar Heritage Centre, South Yorkshire. All expressions of interest will receive an invitation and details on the show, event, directions and accommodation.
Visit the Blog for more.
Posted By: Doug Nicholson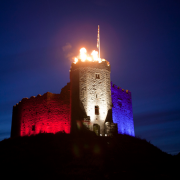 Jubilee Beacon
07 June 2012
Twelve of our gas woofers were set at the top of Cardiff Castles Keep as part of the Jubilee Beacon chain. A big thank you goes to the uncomplaining local crew, who took the majority of the equipment and 30 large propane bottles up dozens of steep medieval steps and then down again.
Posted By: Doug Nicholson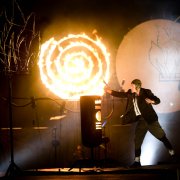 Arts Council funding confirmed
09 July 2012
External Combustion has been awarded our Arts Council funding for the development of Prometheus' Garden. This will be a fantastic boost to the project and help to realise the showcase to our highest ambition.
Posted By: Doug Nicholson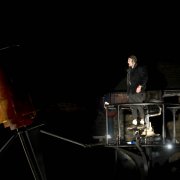 Prometheus Showcase
28 November 2012
Prometheus' Garden was finally performed on the 13th October. Thanks to all who were involved and to our terrific audience, it was a great success.
Go to the blog for more.
Posted By: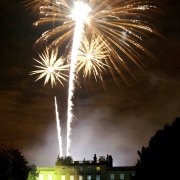 November shows continue
28 November 2012
The company is still out doing shows this month and into December with eight completed and three to go and a finale gig to the year at the third capital, Cardiff for New Year.
Posted By: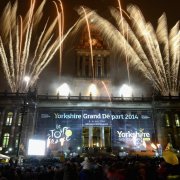 Yorkshire Grand De part 2014
29 January 2013
Following a very busy 2012, the company completed the year with a great show for Cardiff's NY. Following on we are asked to produce a roof top show for the public announcement of the Tour de France starting in Yorkshire. We rigged 12 flame machines and an intense 3 minute aerial display on Leeds Town Hall and indoor stage pyrotechnics for the event, all to coincide with a live BBC broadcast.
Posted By: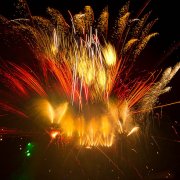 Summer has ended.
09 September 2013
Summer turned into an eclectic mix of projects for the company and its members, with some notable gigs to report:
Flame machines went out for the church and the celebration of Pentecost, not what we expected when we built them.
Queens College Cambridge May Ball asked us to produce a pyromusical on the roof of the college, a great success and the talk of the town.
Glastonbury Festival returned and so did we with our 20th year of producing exciting shows in a challenging site.
The opening of CAST, Doncasters new civic theatre in collaboration with Slung Low.
We are now in planing stages for a busy autumn, watch this space.
Posted By: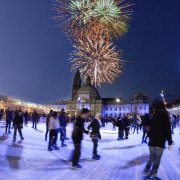 Spring is here!
19 March 2014
Well spring has sprung and it is time to provide a bit of news from Ex Com. We had a great autumn and end to last year with our usual visit to Cardiff to entertain the revellers. And now after a brief hiatus, work has started on plans for the company and its artistic director, usual pyro gig opportunities are being investigated and funding is being sort for new, none pyro artistic projects.
With good luck and clever negotiation the company may have some exciting news in the next couple of months, the blog will have more to say.
Posted By: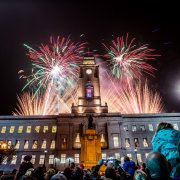 Switch on
18 February 2015
Busy and rewarding last quarter of 2014. Many pyromusicals, light switch on's and New Year celebrations to occupy us in our civic firework mode.
An exciting installation project was completed for Enchanted Parks, Gateshead. More to come.
Posted By: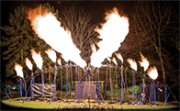 Helios
18 February 2015
Helios is an idea we have wanted to do for some time and was realised as an 'Enchanted Parks' commission at the end of 2014 with great response.
Find out more on the blog page.
Posted By: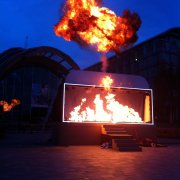 Effects for theatre
20 April 2017
Director Doug Nicholson continues to work with innovative theatre companies and event producers on outdoor projects. He has developed a fresh approach to creating very bold flame and explosion effects for sensitive site specific performances in residential or city centre spaces, Shinning City with Slung Low Theatre being a good example.
Find out more on the artistic directors blog page.
Posted By: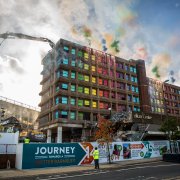 Demolition day
20 April 2017
An unusual request to provide colour and noise to a demolition ceremony in Barnsley. Press and media converged at 9.30 am in Barnsley City Centre to document the start of the destruction of the old concrete shopping centre monoliths.
Powder paint fountains and rapid firing strings of maroons were a surprise for all.
Posted By: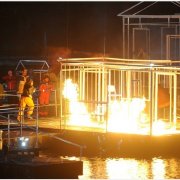 Flood
18 May 2017
Our friends at Slung Low are producing a year long theatre project for Hull, City of Culture, which demands our expertise in producing flame and explosion effects that are safe and reliable.
Part two of the four part performance has been completed. Part four will see us back in Hull in early October.
Posted By: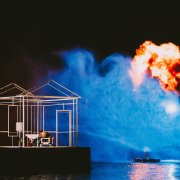 More Flood
18 May 2017
An image from Flood final scene, act two.
Posted By: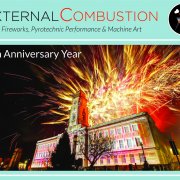 30th anniversary and relocation
29 January 2019
2018 saw the companies workshops, explosives stores, studio and office relocate to the Hope Valley, deep in the Peak District. Following a busy year of moving everything and modernising the new site, we are ready for the next chapter in External Combustion's life. The company is in its 30th year and we celebrate with new projects and refreshment of old favourites.
Posted By: Doug Nicholson
Transit of Venus
29 January 2019
Gravity Field Festival commissioned us to create an installation to commemorate the first observation of the transit of Venus. We designed and made a giant Orrery depicting the Sun, Venus, Earth and its moon in mechanical orbit. With performance, fire< sound and video.
Posted By: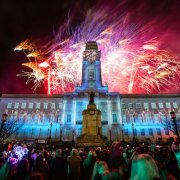 Autumn shows
29 January 2019
Autumn has become our main season, we produced firework shows for halloween, the 5th and numerous Christmas Lights switch on events in 2018. Some of the more creatively rewarding projects involved our flame and light installations.
Posted By: